Imlay City - 2022 Boys Rosters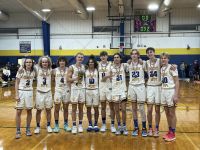 We have an inexperienced team varsity team, with only two players returning that earned significant varsity minutes last season. One of the two returners is senior, Beau Hund a 6-1 guard, that can shoot the ball very well and is very solid as an on-ball defender. Currently, he is shooting 44.5% from three and overall 56.4% from the field while averaging 15.2 points, 6.0 rebounds, and 2.4 steals per game in the first 5 games.
Also returning, is 6-7 sophomore, Zander Nash. In the first 5 games of the season, Zander is averaging 13.2 points, 6.2 rebounds, 5.6 assists, and 1.0 steals per game. Zander plays inside and outside on both offense and defense. Against Detroit Douglass Zander was rebound shy of his first career triple-double. He scored 18 points, had 10 assists, and grabbed 9 rebounds.
Starting to step up for us is 6-5 senior, JD Trout. This past week against Detroit Douglass, JD scored 10 points, grabbed 6 rebounds, and had 3 block shots. Later in the week against rival Almont, JD scored 12 points, grabbed 10 rebounds, and contributed 2 block shots.
| | | | | | |
| --- | --- | --- | --- | --- | --- |
| No. | Name | Pos. | Ht. | Wt. | Year |
| 1 | Jack Siegler | G | 5'6 | | SO |
| 2 | Greg Pawlaczyk | G | 5'9 | | SR |
| 3 | Will Keesler | G | 5'10 | | SR |
| 4 | Andrew Cezik | G/F | 5'11 | | SO |
| 5 | Beau Hund | G | 6'1 | | SR |
| 10 | Tyler Pries | G | 5'9 | | SR |
| 11 | Matt Evans | G | 6'3 | | SO |
| 12 | Micah Wampler | F | 6'1 | | JR |
| 21 | Caelb Debaeke | G | 6'2 | | SR |
| 23 | JD Trout | F | 6'5 | | SR |
| 24 | Zander Nash | G/F | 6'7 | | SO |
| 30 | Isaac Sommer | G | 6'1 | | FR |
| | |
| --- | --- |
| Head Coach: | Don Gauthier |
| Assistant Coach(s): | Matt Van Dyk, Dave Nash and Dave Brown |
| Athletic Director: | |
| Principal: | |
| Mascot: | Spartans |
| School Colors: | |