Grand Rapids Christian - 2022 Boys Rosters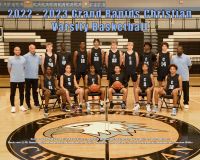 Coaching Record 65-16 (5th season as head coach) Assistant Coach for 5 years at the high school level. Former head coach at Grand Rapids Community College. Overall, 16 years of coaching.
Season Record 2-0 Wins over South Christian and Hudsonville
Key Players: Dono Thames, Jaylan Ouwinga, Nate Johnson and Malachi Hooser II
Points Per Game:
Dono 26pts
Jaylan Ouwinga 12pts
Malachi Hooser 10pts
Nate Johnson 7pts
Our Strengths this Season: Size and versatility, great team chemistry and camaraderie and most important Defense, Defense will be the focus.
Match-up: I am excited to match up with Hamtramck. Two great programs going head to head early in a great environment. Some of the top players in the state will be showcasing their games. This will be a great opportunity to evaluate where we are at as a team and individuals. As a coach, you want to see what areas you need to continue to get better at. There's no championships won in December but it's a great test to prepare your team to win a championship. I am eager to see how we'll respond early on a big stage.
| | | | | | |
| --- | --- | --- | --- | --- | --- |
| No. | Name | Pos. | Ht. | Wt. | Year |
| 1 | Malachi Hooser, II | | | | JR |
| 2 | Carter Goodyke | | | | JR |
| 3 | Kuron Luster | | | | JR |
| 4 | Zay Caviness | | | | JR |
| 5 | Dono' Thames | | | | SR |
| 10 | Nate Johnson | | | | JR |
| 11 | Tyler Davis | | | | SO |
| 12 | Jordan Rodgers | | | | JR |
| 14 | Quintin Willis | | | | JR |
| 22 | Tyler Porte | | | | SR |
| 30 | Quinton Sall | | | | SR |
| 32 | Jaylan Ouwinga | | | | JR |
| 40 | Ador Mawut | | | | SO |
| | |
| --- | --- |
| Head Coach: | Eric Taylor |
| Assistant Coach(s): | Jimmy Karrip and Mike Miller |
| Athletic Director: | Mr. Jason M. Heerema |
| Principal: | Brad A. Mockabee |
| Mascot: | Eagles |
| School Colors: | Columbia Blue & Black |